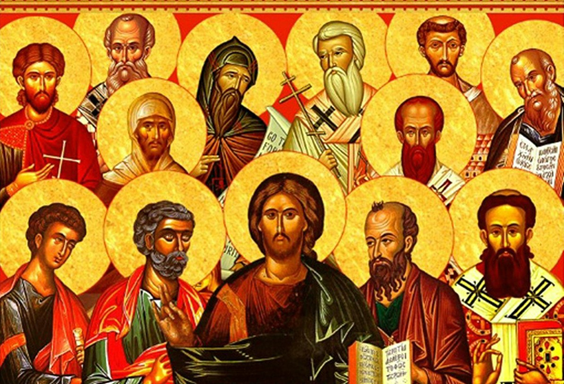 For the first forty years of my life, it never crossed my mind that I needed anything else but the Bible to know what I needed to believe to be a faithful Christian. When I was in seminary and preparing to become a Protestant pastor I studied the history of Christianity, but with a certain slant that skirted any acknowledgment of the historical importance of the Catholic Church. For me, as well as most of my fellow seminarians, the important history essentially ended with the closure of the New Testament and picked up again with the sixteenth century Protestant reformation.

I certainly knew of some significant Christian figures and events from those "lost" fifteen hundred years, but for me and the congregations I pastored, all that was important was the Bible—which had been "saved" from the clutches of the "Whore of Babylon" through the courage of the Reformers. The few references I had read from the writings of the early Christian writers (I don't remember referring to them as early Church "Fathers") were selectively chosen to demonstrate that the early Church was more like Protestantism than Catholicism.

Then, by God's grace, my eyes were opened to the problems of Protestantism. Without question, it was my discovery of the witness of the early Church Fathers that most opened my heart and mind toward the Catholic faith. Fortunately, God provided helpers to assist me in finding and working my way through the few available collections of the Fathers, most of which were out of print and some badly skewed by anti-Catholic translators. Through their witness, the Catholicism of the early Church became so obvious that my family and I knew that if we were to follow the truth then we had no option but to become Catholic.

A large majority of Christians today believe that all one needs to know about the early Church can be gleaned from the book of Acts, and that beyond that, the essence of early Church structure, liturgy, and praxis is somehow a prototype of what they experience in their modern-day Protestant churches.

But if the inspired words of the New Testament do not contain all that the Apostles taught the early Christians, then how does one discover the rest of what these early Christians believed? The answer to this—at least for hundreds of modern Protestant ministers who have surprisingly found their way home to the Catholic Church—is in the writings of the early Church Fathers.

How, though, can we access such a large corpus of writings, especially when they were written in languages that most of us today have not had the patience to learn?

There are other collections, which have helped many discover the beauty and importance of what these early writers reveal about the expanding and persecuted early Church. But Akin's finely selected and categorized collection provides a far more accessible introduction into the full Catholicity of the early Christians. As a convert himself and a well-honed apologist, Jimmy knows the topics that are most crucial for those wanting and needing to know what the early Church believed—especially in those doctrinal areas where Catholics and non-Catholics bump heads.
Short biographies of some of the various Church Fathers and ecclesiastical writers.
ST. ATHANASIUS OF ALEXANDRIA – Born around 295; died 373. A Doctor of the Church. As a deacon he accompanied St. Alexander of Alexandria to the Council of Nicaea I. He succeeded Alexander as patriarch of Alexandria and was a tireless defender of Trinitarianism and foe of the Arians. His time as bishop was stormy, and he was expelled from his see five times but regained it each time.
ST. AUGUSTINE OF HIPPO – Born 354; died 430. One of the four original Doctors of the Church. Of Berber descent, he was born to a pagan father (Patricius) and Christian mother (St. Monica), in Thagaste (modern Souk Ahras, Algeria). He spent some time as a Manichean before becoming a Christian. He was baptized by St. Ambrose of Milan. Before becoming Christian, St. Augustine fathered a son (Adeodatus) by a concubine. After baptism, he became bishop of Hippo Regius, Numidia (now Annaba, Algeria). The most prolific of the Church Fathers, and one of the most important theologians in history.
POPE ST. CLEMENT I – Probably wrote in early 70. Various ancient sources place him as the first, second, or third successor of St. Peter. (Most commonly, he is held to be the third, after Linus and Cletus.) He was the author of a single surviving Letter to the Corinthians, which is often dated around 95, but this is too late a date.
William Jurgens points to internal evidence that places it no later than 80 or so (the date he favors) and possibly up to ten years earlier. John A. T. Robinson shows internal evidence that places it in the first part of the year 70. Specifically, Clement refers to sacrifices still being offered at the temple in Jerusalem, which was destroyed in July of 70. Clement also refers to the repeated crises that have prevented him from writing to the Corinthians until now, which is a likely reference to the violent "year of four emperors" in 69, a time of civil war that followed the forced suicide of Nero in 68. In it Galba, Otho, and Vitellius were successively acclaimed emperor and then killed or forced to commit suicide before Vespasian finally took office.
The epistle may or may not have been written before Clement was pope. He was, in any event, a major figure of the period, as demonstrated by the fact that a number of later works were attributed to him or written about him. Also referred to as "Clement of Rome."
CONSTANTINE I – Born around 272; died 337. The first Christian emperor—an office he shared with Licinius from 306 until 324, when he became sole emperor. His conversion was prompted by a private revelation in which he was told to conquer in the sign of the cross. He moved the capital of the empire to Byzantium, which was rebuilt as Constantinople (now Istanbul, Turkey). In 313 he and his co-emperor issued the Edict of Milan, which proclaimed religious toleration. He did not, however, make Christianity the official religion of the Roman Empire. In 325 he convoked the Council of Nicaea I to deal with the Arian crisis. Though the council endorsed Trinitarianism, it did not stop the controversy. Constantine was eventually baptized by the Arian bishop of Nicomedia, the city in which he lay dying. Sometimes called "Constantine the Great."
ST. CYPRIAN OF CARTHAGE – Born around 205; died 258. He was bishop of Carthage (now a suburb of Tunis, Tunisia). He presided at the Council of Carthage of 256. He got along well with Pope St. Cornelius I but had a falling out with Pope St. Stephen I over whether baptisms performed by heretics were valid (Cyprian wrongly held that they were not). For a time, he had to shepherd his flock while in hiding due to persecution. Eventually he was martyred by beheading.
ST. CYRIL OF ALEXANDRIA – Died 444. A Doctor of the Church. Patriarch of Alexandria, Egypt, Cyril was a harsh man who dealt cruelly with his enemies, including Jews, Novatians, St. John Chrysostom, and Nestorius. A mob of his followers brutally murdered the female pagan philosopher Hypatia, though there is no evidence that they did so at his direction. Despite his flaws, he was an important theologian and papal legate to the Council of Ephesus.
POPE ST. GREGORY I – Reigned from 590 to 604. One of the four original Doctors of the Church. Though born to a wealthy family, he sold his possessions and established monasteries, one of which he dwelled in. He practiced asceticism to the point that he damaged his health. Reluctantly, he was drawn from the monastery into the service of the pope. Eventually, he was elected pope himself, though for a time he sought to avoid the office. He guided the Church during a crucial period of transition between antiquity and the Middle Ages. Commonly referred to as "Gregory the Great."
ST. HILARY OF POITIERS – Born around 315; died around 367. A Doctor of the Church. He converted from paganism and, though he was married, he was also elected bishop of Poitiers in what is now France. A strong opponent of the Arians, he is sometimes referred to as "the Athanasius of the West." Like St. Athanasius of Alexandria, he was for a time exiled, but he regained his see.
ST. IGNATIUS OF ANTIOCH – Died around 110. He was the third bishop of Antioch (near the current city of Antakya, Turkey). He heard the apostle John. In the reign of the Emperor Trajan, he was taken to Rome and martyred. On the way he wrote six letters to various churches and one to St. Polycarp of Smyrna. These letters are an invaluable resource concerning early Christianity. They also exist in a long form that includes interpolations of the fourth century, and there is an abridgement of them in Syriac.
ST. IRENAEUS OF LYONS – Born around 140; died around 202. Originally from modern Turkey, where he heard St. Polycarp of Smyrna, he ended up becoming the second bishop of Lyons (now Lyon; then called Lugdunum), in what is now France. He intervened in a dispute between Pope St. Victor I and Bishop Polycrates of Ephesus on the date on which Easter should be celebrated. He also wrote against Gnosticism in his masterwork, Against Heresies.
ST. JEROME – Born around 347; died around 419. One of the four original Doctors of the Church. Originally from Dalmatia (located mostly in modern Croatia), he was educated in Rome and traveled extensively. He attended the Council of Rome in 382 and became the secretary of Pope Damasus, who instigated Jerome's most famous work—the translation of the Bible in Latin known as the Vulgate. This gradually replaced previous Latin translations of Scripture. After the death of Damasus he moved to Bethlehem, where he continued his translation work. Jerome made many enemies as a result of his explosive temper and his ability to hold grudges even after the death of his opponents.
At one point Jerome needed additional priestly help with the monasteries he ran, and to supply the need St. Epiphanius of Salamis ordained Jerome's own brother—a monk named Paulinian—forcibly and against his will. (At this point Jerome was at odds with his own bishop, John of Jerusalem—a split which Epiphanius fostered.) To keep Paulinian from objecting, he was first gagged and then ordained a deacon. A Mass was held, with Paulinian serving the deacon's part. Then he was grabbed, tied up and gagged again, and ordained a priest.
ST. JOHN CHRYSOSTOM – Born around 359; died 407. A Doctor of the Church. Originally from Antioch in Syria (now Antakya, Turkey), he eventually and reluctantly became the patriarch of Constantinople. An extraordinary preacher, he was nicknamed Chrusostomos (Greek for "golden-mouthed"). A reformer at Constantinople, he was in conflict both with other churchmen and with the royal court, which twice had him exiled. Though the first time he was quickly brought back (the next day, in fact), the second time he died enroute to his place of exile. One of his most famous works, and one that helped earn him his nickname, was a series of sermons he preached on "the incident of the statues." When he was a newly ordained priest, a mob of tax protestors went on a rampage in Antioch and, in addition to vandalizing the city and the local prefect's palace, they tore down the statues of the Emperor Theodosius and the late Empress Flacilla and dragged them through the streets. When the riot was over and reality set in, the city was terrified of what would happen next. A series of executions began, and the rumor went round that Theodosius was so enraged that he was contemplating the total destruction of the city, which many began to flee. The local bishop, Flavian, went to appeal directly to the emperor, and while he was gone John preached a famous series of sermons to comfort the population, offer them hope, and prepare them for the afterlife, should Flavian's mission fail. All ended well when Flavian returned and announced that Theodosius had wept upon hearing his appeal on behalf of the city and that he had decided to spare it. It is suspected that John may have written the eloquent speech Flavian delivered to the emperor.
ST. POLYCARP OF SMYRNA – Born around 68; died around 155. Bishop of Smyrna (now Izmir, Turkey). He was a hearer of the apostle John. One of St. Ignatius of Antioch's letters is addressed to him, and he himself wrote to the Philippians. An account of his martyrdom—The Martyrdom of Polycarp—is an important work of hagiography.